New products
"Galaxy 1011" (November 2015)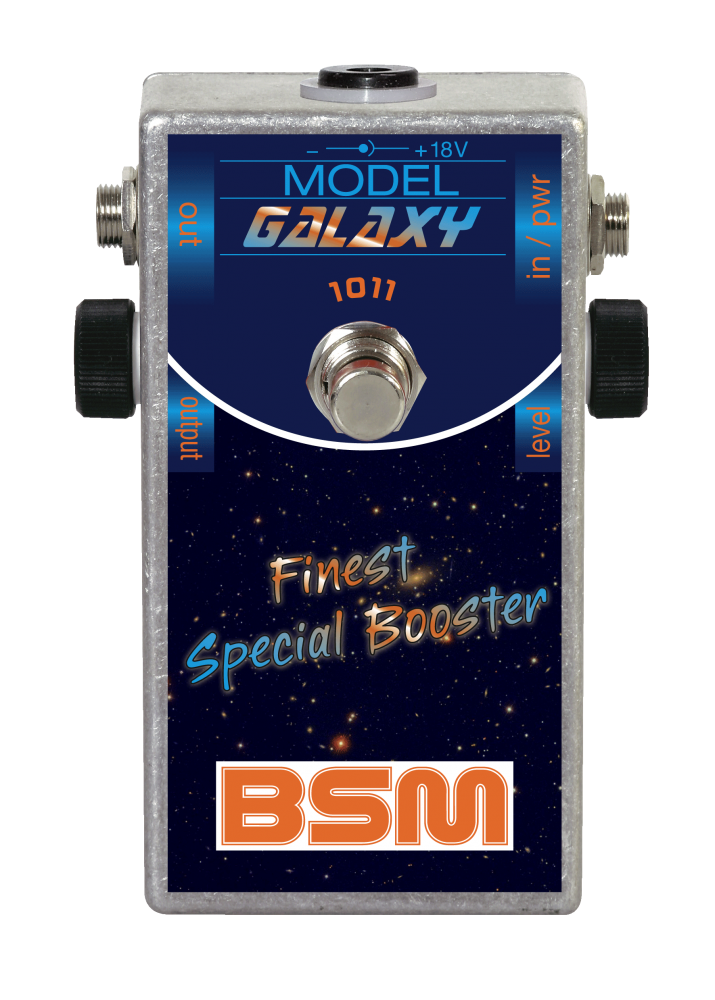 The BSM "Galaxy 1011" is a faithful recreation of the whole AIWA tape recorder sound stage, Ritchie Blackmore used from 1974 until today. This 18Volt unit contains the mic-preamp, the line output amp, the Marshall Factory mod and it holds a status LED. For best results you should power it with an 18v power supply. You can also power the unit with an internal 9v battery, but you will lose some dynamics and headroom compared to the standard 18v power. It is mainly intended for the users of a Marshall Major or clones of this. These are very special amps. With their special circuit design, they are very clean sounding amps and can not be compared to a normal Super Lead or similar (pentode design with EL34 or EL84 power tubes), that sound a bit dirty on their own. For more common amps the BSM RPA series (or the Studio '75) hold alternatives.
So for the real freaks the search for an unaffordable original AIWA 1011 could be well over.
Available approximately April 2016.
"Spice Box" (Autumn 2015)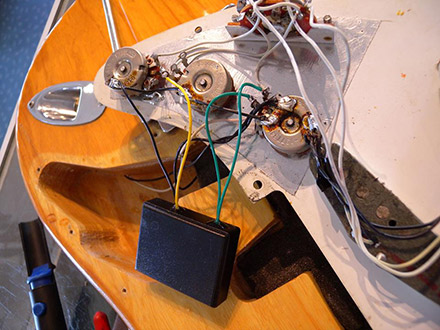 The BSM "Spice Box" is a faithful replica of the old MTC filter box for guitar installation used by Ritchie Blackmore since around 1978, now using modern selected parts because only the best is good enough. The treble bleed function is intended to clean up the tone with a tighter bass response, when the volume control is rolled back. Ritchie used this volume setting for soulful soloing as well. In order to get a sweet sound with this setting, the second feature of the BSM "Spice Box" was incorporated: a mid-filter, using a toroidal-coil with selected core. Compared to a standard tone control, the mid-filter creates more chime and high-end, resulting in a warm and sweet tone, but with a good portion of transparency to prevent it from getting muddy - one of the real secrets of the BSM "Spice Box" ! With the volume rolled back, Ritchie often used the MTC´s mid-filter function to sweeten up his tone when needed. You can put it under the tone pots of most standard routed Stratocasters.
Now available from BSM!
"SUPREME" (Spring 2015)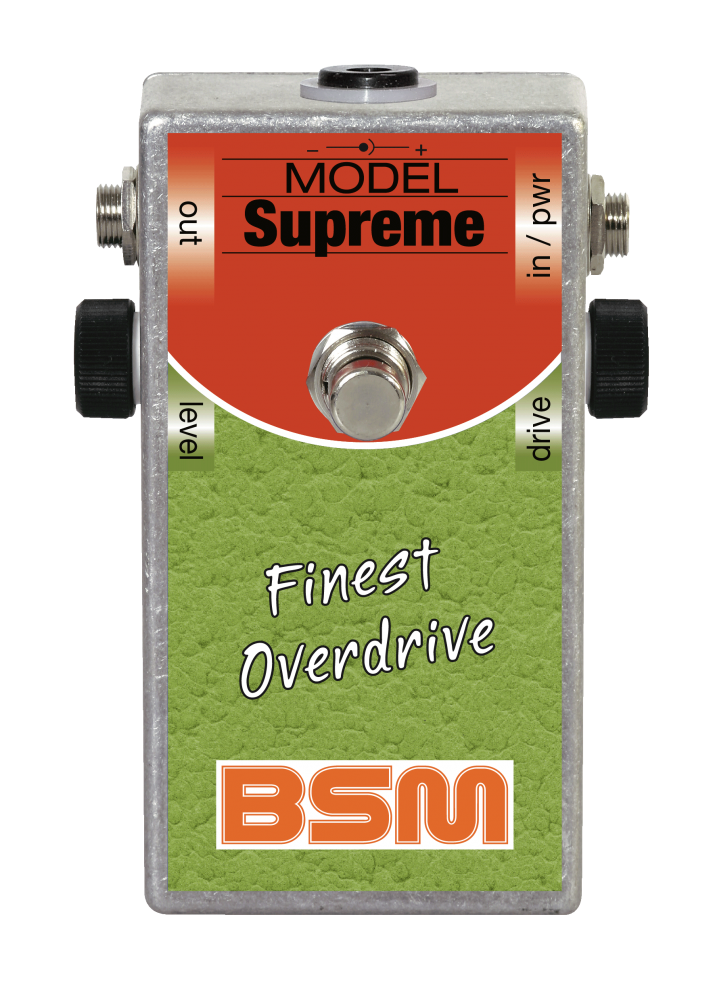 BSM decided to build a significant boutique overdrive pedal in order to add a different and more modern way of receiving the signature Blackmore sound additionally to the classic BSM full power Booster line: the SUPREME! If combines the medium output of an overdrive pedal with the typical Blackmore sound, so as to achieve Ritchie's tone immediately with most amps bright channel independently from the SUPREMES' output adjustment. The drive-control is there to set perfectly Ritchie's gain-shadings over the last four decades of his rock-artistic development. The basic tone is very beefy with direct bass, punching mids and uncoloured treble.
"Studio'75" (November 2012)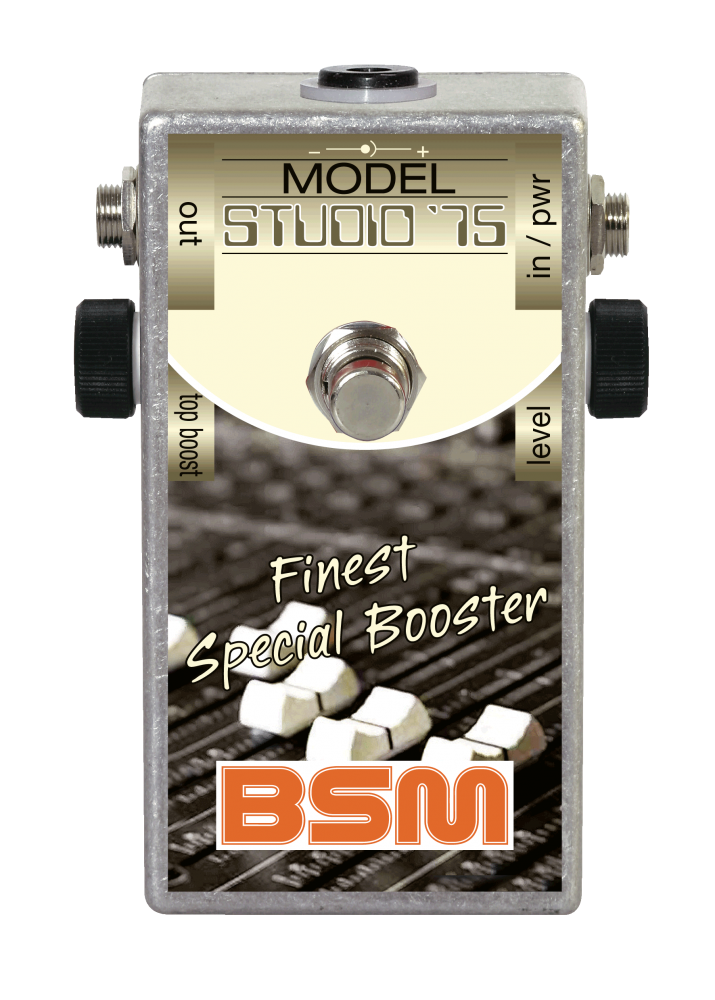 BSM designed a new private stock Booster just for the favourite taste of the company's mastermind. It was intended in the first place to emulate the sound of the 1975 studio recording "Ritchie Blackmore's Rainbow", second to achieve Ritchie's early Rainbow live at the end of 1975. Furthermore the unit was designed to get this sound from any stock "Bright" input found on classic Marshall amps. The basic sound can be described as crisp but there's always an attractive little dirty break up noticeable, even in the clean position. The unit includes two mini lever switches. A 2-position one for "slope", letting you have either a highpass-function or a pure AIWA preamp sound. Second a 3-position one for level that gets you the sound from nearly clean to a rich crunchy sound. If you are looking for Ritchie's sound without buying a modified Marshall Major or a clone just with a stock Marshall amp, this booster could well fit your taste!
"Albuquerque '76" (May 2012)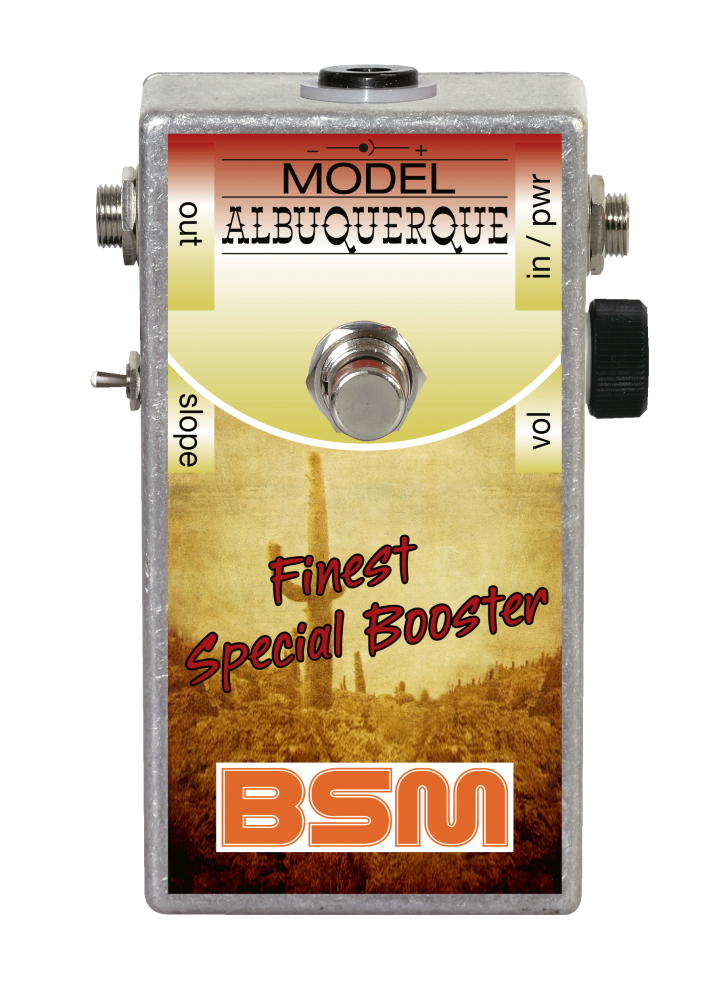 The new "Albuquerque Booster" was inspired by Bad Company's live Bootleg from Albuquerque on March, 3rd 1976. Guitarist Mick Ralphs as a habit recorded the gig amongst many other concerts. Ralphs had a rich harmonic Les Paul overdrive sound and with drums and bass layering the perfect Rock basis for Paul Rodger's hoarse blues based vocals. The "Albuquerque Booster" was mainly created for classic Humbucker like PAF equipped guitars so as to get the following amp in strong overdrive saturation. It has this effect with single coils as well. The "slope" switch is very useful if you have no "Bright channel" on your amp. You can reduce the amount of bass noticeable depending on your likes and the amp's preamp characteristic.
AP-WA Treble Booster (April 2012)
The new "Andy Powell/Wishbone Ash" booster will give you the pearly-sweet and creamy live tone, known from the british guitarist Andy Powell during 1973-76. His band Wishbone Ash was one of the leading european bands at this time, well known for their harmonic chorus playing of the two lead guitarists. BSM will focus on the clean & boost live sound of the "Ballad of the Beacon" folk-rock song.
RW-F Treble Booster (August 2010)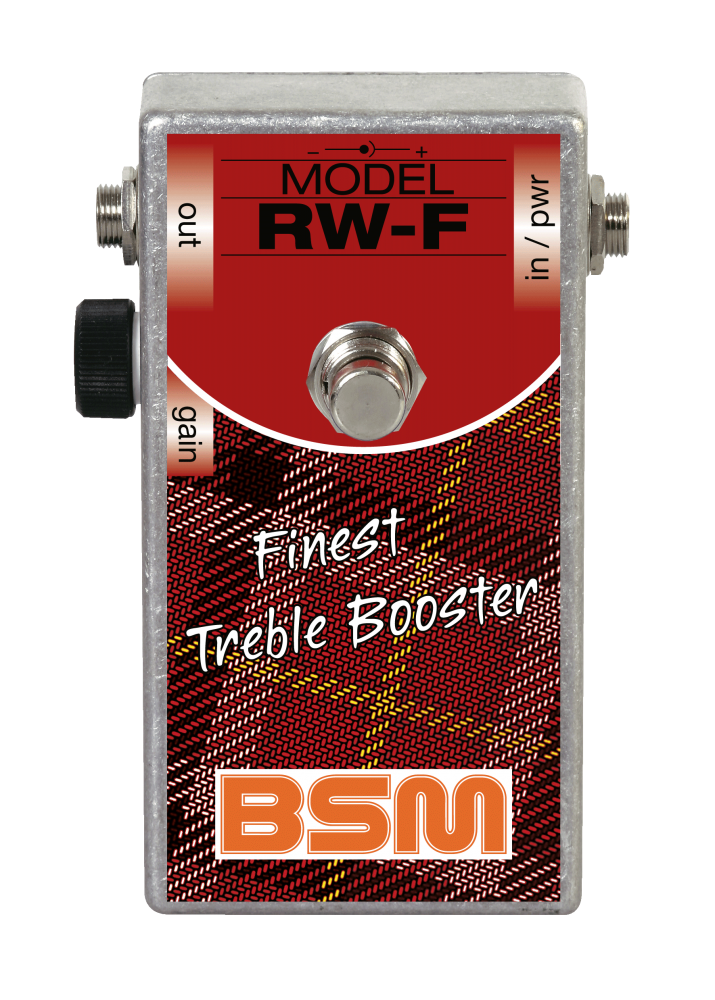 Many guitarists of the late 60s and early 70s knew how to get a rough earthy and unmistakable sound out of their humbucking pickups and tube amplifiers, which in retrospect has not been possible to recreate so far. Representative guitarists' names are Luther Grosvenor, Henry McCullough, Steve Marriot or the incomparable Ron Wood. Now BSM has dedicated a special Booster to this sound, so as to receive this historical sound with every tube amp, that offers a powerful clean or crunch character. The RW-F has been specially designed for classical medium power pickups like the PAF or P90, also the Mini Humbucker or fat overwound single coils. Especially the neck Humbucker, which often tends to sound muddy with inappropriate amp control settings, stays clear now with an unheard warm balance between bass and treble, when using the RW-F. The bridge Humbucker becomes tight and definite with great punch. The booster is true bypass and can be powered by battery or external power-supply. MSRP will be 215 €uros
RM Early Days Treble Booster (July 2010)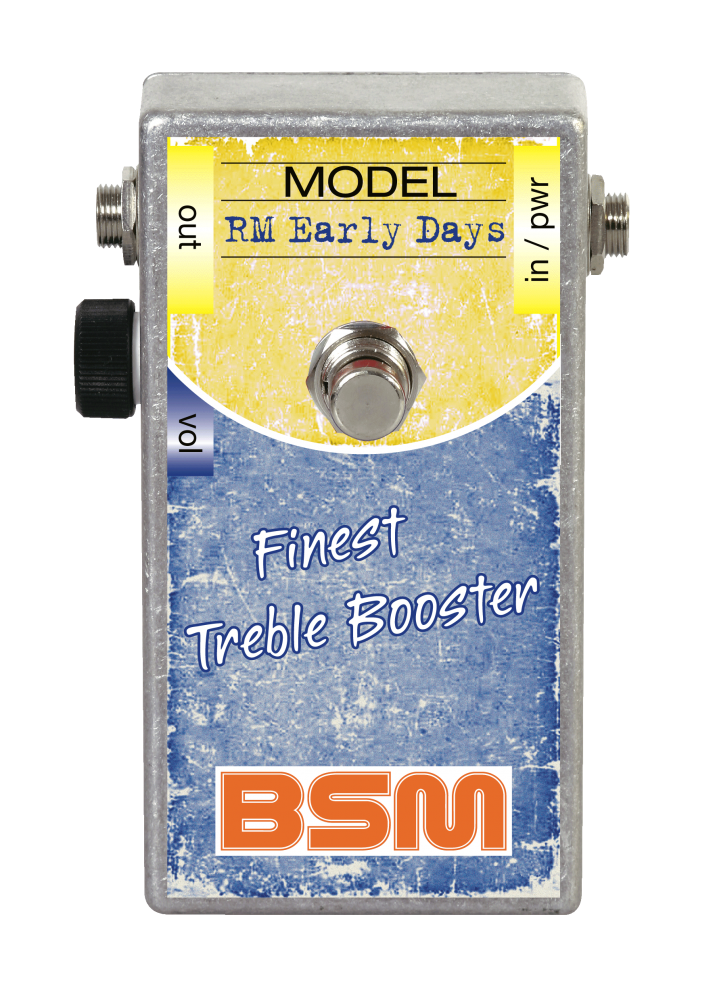 The RM is based on the British Range Master unit produced between 1965 and 1969, as used by Eric Clapton in John Mayall´s Bluesbreakers. Eric also used the booster when playing in the legendary group Cream. Its biting, powerful sound is clearly in evidence on the Bluesbreakers "Beano" album. Blues rocker Rory Gallagher, Glam rocker Mark Bolan, Heavy Rock pioneer Tony Iommi and Brian May from Queen were also heavy users of the original Range Master unit. The RM Early Days is the result of many customers´ demands, looking for the early RM sound. The RM Early Days is loaded with the same highly selected OC44 transistor, used for the famous stock RM model. Only the passive circuit has small differences to the stock RM unit. Therefore the RM Early Days sounds a little clearer and brighter in treble and tighter in the bass-response, compared to the stock RM. It's a fine machine for a brilliant classic rock tone. The booster is true bypass and can be powered only by battery.
"71/73 CM" Booster (March 2010)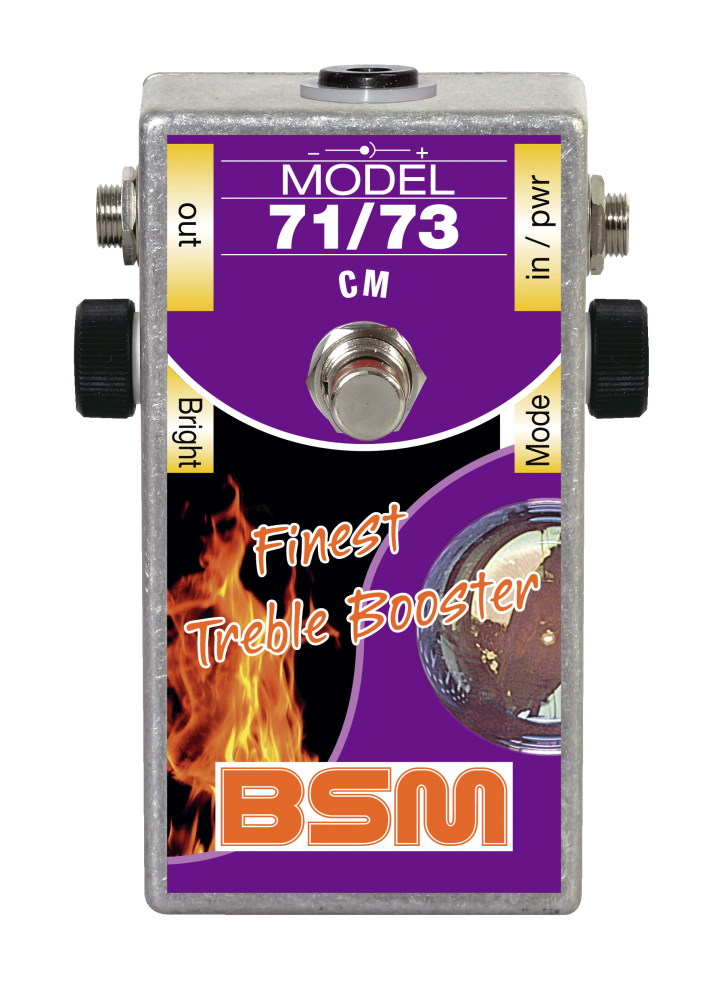 From 1971 upwards, Ritchie Blackmore used not only the mid-rangy sounding Hornby-Skewes treblebooster, he also used the highly dynamical and brilliant sounding CM booster, built and designed by Bill Hough. The new BSM "71/73" is a faithful recreation of this pedal plus the typical BSM add-ons, this is all you need to cover the whole tone range of the legendary Deep Purple Mk2 period. For more details about Ritchies Mk2 sounds, please click H E R E. The "mode" and "bright" controls make this low-gain stompbox extremely versatile, producing a classical hardrock tone with a lot of nuances. The box can be powered up to 18 volts for increased headroom and maximum dynamics. The BSM "71/73" treblebooster will be released to the public at the upcoming Musikmesse in Frankfurt/Germany. The booster is true bypass and can be powered by battery or the external 2.1mm DC power-jack. MSRP will be 219 €uros